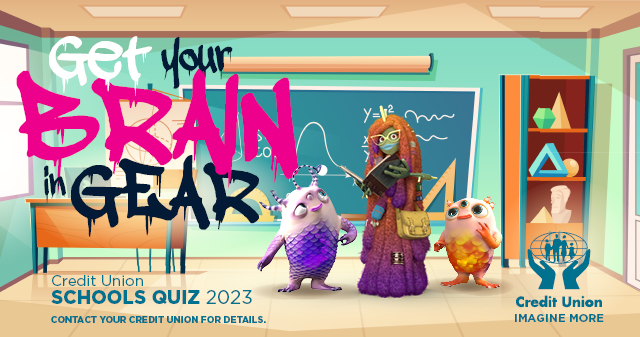 The Credit Union Schools Quiz takes place each year in primary schools across Ireland. The event is very popular and currently on its 29th year running! The quiz gives 25,000 kids across Ireland the opportunity to participate and represent their school.
The schools quiz comprises of three stages. Stage 1 takes place at Credit Union level. Stage 2 is Chapter Level & Stage 3 is the National Final.
The quiz is divided into two sections; Competition A for children under 11 and Competition B for children under 13. With three stages, stage 1 in January takes place at a Credit Union level, stage 2 takes place in march at a Chapter level and stage 3 takes place in April at a National level.
The national winners of the Credit Union Schools Quiz for 2023 are :
Competition A (Under 11): Cillian D'arcy, Melissa Huve, Enya Farinas and Ella Donald from Knocknacarra Educate Together (representing Claddagh Credit Union).
Competition B (Under 13): Jack Guthrie, Siobhan Crowley, Ava Linnane and Ellen O'Leary from Ennis National School (representing St Francis Credit Union).
The winners claimed their titles following a nerve-wracking final during which 85 teams-of-four from the across the island battled it out at the RDS in Dublin on Sunday April 2nd. The participating children were accompanied by families, relatives, teachers and friends who enthusiastically cheered them on at the event which was hosted by Fergal D'Arcy.